Abkant
Besides laser cutting or welding services, Laser Processing completes its range of services offering metal bending operations. Customers benefiting of this operation were very satisfied, especially because of the attention given to detail and quality by our experts.
In our company, bending the metal is performed using Abkant type machines, Trumpf – Trumabend 5230, high power, which can bend sheet metal profiles with lengths up to 3000 mm and thicknesses up to 20-25 mm (maximum thickness is 16mm at length of 3000mm).
Using the Abkant for bending metal we can be obtained various elements: profiles, angles, elements of board construction (halls), corner elements and any other products that can be obtained by bending sheets with thicknesses up to 20-25 mm.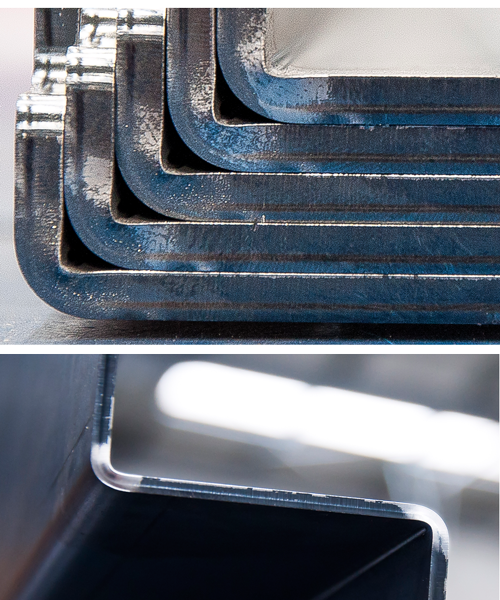 Technical details
Bending operation involves high power and precision experience and equipment. All of these can be found in Laser Processing. For any technical details and personalized advice, contact our experts.
Abkant-type equipment plays a major role in industries where sheet metal processing is needed, because they can perform heavy and complex operations of bending the sheet of very large size.
The Laser Processing team uses Trumpf brand bending equipment for you to enjoy many advantages such as bending quickly, but at angles between 0 and 180 degrees.
The abkants that bend the board are divided into several categories such as those with a sharp radius that can perform bending processes at wide angles, the only limitation is given by the width of the workpiece. These equipment models are special because their working accuracy is very high and they increase productivity rapidly.
These machines are used for the bending process of the sheet which requires medium volume of work. Because it has a gauge located behind the car, the latter can be used by a single worker greatly easing work and reducing effort.
The mode of operation is simple because it has two jaws that rotate and easily bend the board regardless of its size. These Abkant machineries make it easy to use perforated sheet metal.
---
Maximum bended thickness

20-25 mm. Maximum thickness is 16mm at length of 3000mm, depending on the automatic correction.

Equipment

Abkant Trumpf - Trumabend 5230

Technical possibilities

230 Tons force

Operator protection system by laser beam